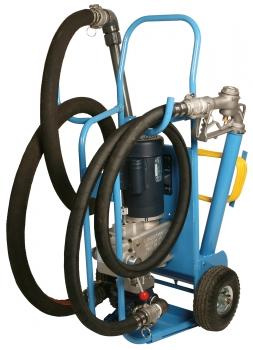 20 GPM, Transfer Pump,Cart MNT w/ PWR MSTR (Med-Viscosities) EA
BULK TRANSFER PUMPS:
Designed for the transfer of motor oil, gear oil, transmission fluid, hydraulic fluid, & 100% antifreeze. These versatile pumps offer flexibility, economy, and simplicity. A unique patent gear and rotor design provides for efficient positive displacement pumping. This, in conjunction with a specially designed bypass allows for the transfer of a wide range of fluids up to a viscosity of 4,150 cps.
LiquiDynamics Bulk Transfer Pumps are designed to automatically minimize current draw by responding to increase in viscosity by limiting output flow, thus staying within the amperage limitations imposed by 115 VAC power sources. 
This cart system is similar in design and function to P/N 33280 described above, except that it has a single speed gear reduction, which allows pumping of "light" and medium viscosities (max 625 cps) at 20 GPM. It is a more economical solution for applications where the versatility of the three speed gear flexibility is not required.
PowerMaster control option included
CHS Business Partners you must be logged in to MyCHS to see prices and purchase items. For all others please contact your local CHS for assistance. Login now.
Back