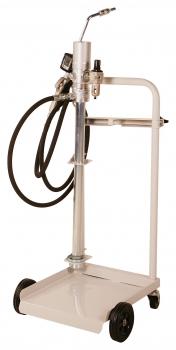 3:1 MobileCart System: for 16Gal Drum,w/ Electronic Meter EA
3:1 Mobile Cart System. For use w/ 16 Gallon Drum, w/ Electronic Meter and cover
Includes:
P/N 20073T, 3:1 pump
P/N 22157, bung adapter
P/N 51003C, cart
P/N 81200-12, 1/2" x12' oil hose
P/N 901006, cover
P/N 100200-RA, electronic meter
P/N 540104C, 1/4" air filter/regulator w/gauge
CHS Business Partners you must be logged in to MyCHS to see prices and purchase items. For all others please contact your local CHS for assistance. Login now.
Back