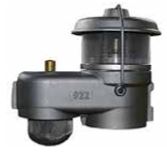 Combination Vent / Overfill Alarm(s)
The audible alarm whistles when the liquid level in the aboveground storage tank reaches the preset level. The pressure vacuum vent allows the tank to breathe during filling and dispensing operations.

Features:

Functions as both a pressure vacuum vent and audible alarm while utilizing a single 2″ or 3″ tank opening. Installs on the top of the vent pipe, generally 12 feet above grade
105 to 120 decibel whistle alarm (measured at a distance of 1 foot with a fill rate of 90 GPM)
Fully mechanical alarm does not require electricity or batteries
Alarm level can be set to activate at any liquid level by adjusting the cable length to the float device
Minimum fill rate of 20 GPM required for alarm to operate
Florida DEP EQ 227 certified
Size(s):
#7920 - 2" Combination Vent / Overfill Alarm
#7921 - 3" 

Combination Vent / Overfill Alarm
CHS Business Partners you must be logged in to MyCHS to see prices and purchase items. For all others please contact your local CHS for assistance. Login now.
Back