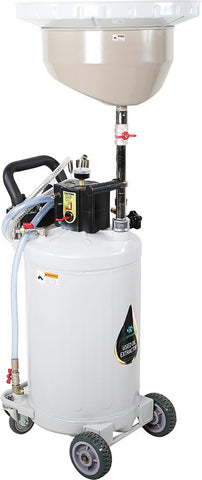 Fluid Extractor, Oil Drain Combination,21Gal, Pressurized EA
OIL DRAIN & EXTRACTOR:
These fluid extractors are reliable and efficient methods for removing fluids from most any engine, transmission, differential, transfer case or gearbox. They are extremely easy to operated and maintain. Ideal for use with automobiles, trucks, tractors, farm machinery, marine engines, forklifts, industrial machinery, and various other small engines. Fluid Extractors are designed to be used with hot engine oil (104 - 140 degrees F) which allows the oil to move more freely. 
A shop air supply at approximately 100 PSI at 10 CFM is all that is needed to create a vacuum. All extractors are supplied with a set of 6x flexible probes, 3 adapters (to fit Mercedes, BMW & VW), 6' suction hose, and 6' discharge hose. Units are powder coated for durability and long lift
Fluid Extractor with 21 gallon capacity is equipped with a tank level sight, vacuum gauge, 6' suction hose with shutoff valve, 6' discharge hose and a full complement of suction probes and three adapters (to fit Mercedes, BMW, and VW). Vacuum generation time is approximately 3-4 minutes using 10 PSI of shop air. Minimum drain bowl height 47" and maximum drain bowl height is 71".
Combines functions of 24176 and 24270R

Dimensions: 17"W x 21"D x 51"H
Empty weight: 60 lb.
NOT FOR USE WITH FLAMMABLE CORROSIVE OF EXPLOSIVE FLUIDS
CHS Business Partners you must be logged in to MyCHS to see prices and purchase items. For all others please contact your local CHS for assistance. Login now.
Back