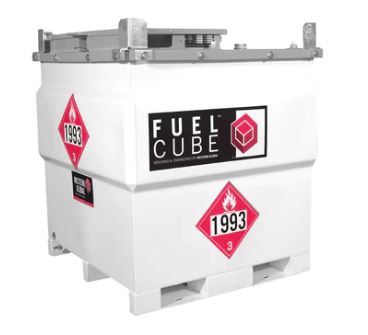 FuelCube(s)
FuelCube is a compact and economic stationary fuel tank designed for onsite fuel supply and fleet refueling. The FuelCube includes features such as an integral, lockable equipment cabinet for security and 4-way forklift pockets for easy mobility when empty
Features:
Lockable Equipment Cabinet - Equipment and ports are secure and spills are contained. Secure hose access enables fueling while cabinet is locked
Stackable Corner Brackets - Easily stackable up to two high when empty
Double Walled 110% Containment - Built-in, weatherproof secondary containment eliminated the need for pans or basins
UL142 Approved - The USA/NA recognized standard for safety: steel above ground tanks for flammable and combustible liquids
Removable Inner Tank - For routine cleaning, maintenance, and inspection
Two Way Forklift Pockets - Quick and easy maneuvering and mobility
Tank Comes with two feed & return blocks
Ideal Uses & Applications:
Onsite Fuel Supply - The FuelCube range is the ideal solution for short term on-site fuel storage
Fleet Refueling - The FuelCube can refuel your fleet and reduce any un-needed downtime in remote locations or on your site
Generator and Auxiliary Equipment - The FuelCube can connect to one diesel powered piece of equipment and dispense fuel by pump at the same time
Approvals:
FCP250/FCP500/FCP1000/FCP1800

Product Sales Sheet(s):
Size(s) - Dimensions L x W x H / Weight (Empty / Full)
FCP250 - 243g (45" x 45" x 51") - 926 lbs / 2,854 lbs
FCP500 - 528g 

(86" x 45" x 51") - 1,501 lbs / 5,690 lbs 

FCP1000 - 1,016g 

(90" x 87" x 46") - 2,760 lbs / 10,815 lbs

FCP1800 - 1,862g (156

" x 87" x 46") - 4,371 lbs / 19,133 lbs
CHS Business Partners you must be logged in to MyCHS to see prices and purchase items. For all others please contact your local CHS for assistance. Login now.
Back