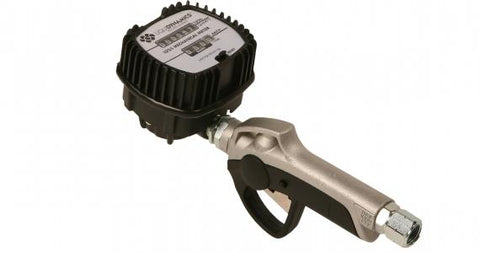 Mech-Meter w/ Control Valve Rigid Spout, Manual HiFlow Tip EA
The LiquidynamicsLD25 mechanical meter is designed to be simple and reliable and is intended for use with engine oils, gear oils, ATF, hydraulic fluids and 100% antifreeze. Oval gear technology is used to measure the amount of fluid passing through the measuring chamber. The oval gears then drive a simple mechanical counter to provide high accuracy measurement with low pressure loss. The Ld25 has a 4 digit (999.9), resettable batch total, which indicates quarts dispensed and a 6 digit non-resettable, cumulative total, which indicates cumulative gallons dispensed.
A die cast aluminum body provides a strong housing that is rated to 1,000 PSI operating pressure and 3,000 PSI burst pressure. The control handle features an inlet strainer to protect the valve and oval gears, while a trigger guard prevents accidental activation. A "balanced" valve design reduces trigger pressure and allows gradual starting and stopping of fluid flow. The Ld25mechanical meter is available in a wide variety of nozzle configurations to fit most any application, 0.3 - 8 GPM flow range.
Includes Control handle, rigid spout, and manual high flow tip - NON-PRESET

CHS Business Partners you must be logged in to MyCHS to see prices and purchase items. For all others please contact your local CHS for assistance. Login now.
Back