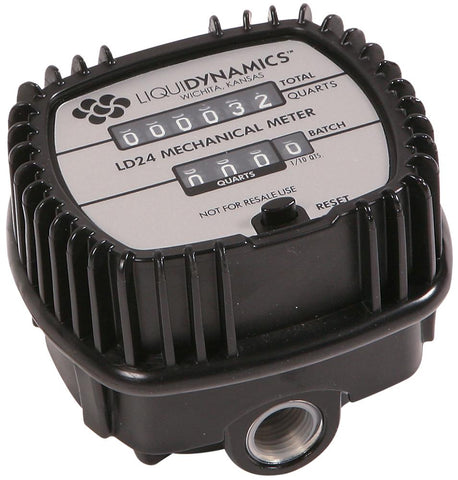 Mechanical Meter, In-line 1/2" NPTF EA
Mechanical In-Line meter uses oval gear technology to ensure low pressure drop and high precision. Intended for use with lubricating oils, hydraulic fluids, transmission fluid, & 100% antifreeze.
The die cast aluminum body is rated to 1,000 PSI working pressure with burst pressure of 3,000 PSI. Measured fluid is displayed via a 3 digit (plus fraction) re-settable batch total which reads in quarts, while the non re-settable has a 6 digit display reading in gallons.
Inlet and outlet fittings are 1/2" NPTF (3-8GPM) 

Base System - Mechanical meter only
CHS Business Partners you must be logged in to MyCHS to see prices and purchase items. For all others please contact your local CHS for assistance. Login now.
Back