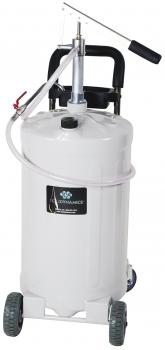 Oil Dispenser, 21 Gallon w/ Hand Operated Pump, Elec-Meter EA
The mobile oil dispensers shown here will provide many years of reliable operation. They are designed for easy and convenient transfer of engine oil, gear oil, ATF, hydraulic fluid and 100% antifreeze.
Hand operated 21 Gallon mobile oil dispenser (18 Gal. useable capacity) has 6' discharge hose with ball valve shutoff and curved discharge spout. Tank includes a fluid level gauge with graduations in Liters and Gallons. Heavy duty hand pump has approximately 8 oz. discharge per stroke (four strokes per quart). Oil dispenser includes a handy tool tray and fill/breather cap to allow easy refilling of tank. Dim.: 15" W x 21" D x 44" H, empty weight is 56 lb.
Includes P/N 100200 electronic digital meter. Meter has a resettable batch total, non-resettable cumulative total and can display batch totals in pints, quarts, liters or gallons. Cumulative total displays Liters or Gallons. Requires 2 ea. AAA alkaline batteries (included).
WARNING: These dispensers are not for use with flammable, explosive or corrosive products such as gasoline, diesel fuel or chemicals. Do not do any welding on the reservoir
CHS Business Partners you must be logged in to MyCHS to see prices and purchase items. For all others please contact your local CHS for assistance. Login now.
Back